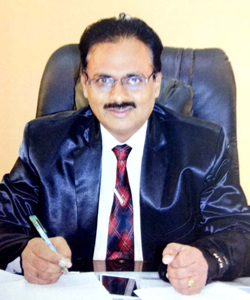 Dr. S. Mohan Kumar is the founder Vice-Chancellor of newly formed Private Professional University that stands by the name of Sri Jagadguru Murugharajendra University (SJMU), Chitradurga, Karnataka, since 30th October 2021. Dr. S. Mohan Kumar served in Malnad College of Engineering (MCE), Hassan, Karnataka as one of the most senior Professors and had earlier served in SDM College of Engineering and Technology (SDMCET), Dharwad, Karnataka in the capacity of the Principal from May 2011–July 2014, under GoK deputation. Besides, he was also the founder Principal of newly started Government Engineering College (GECH), Hassan, Karnataka from May 2009-Nov.2010.
Dr. S. Mohan Kumar was awarded Govt. of India's Young Scientist BOYSCAST Award by Department of Science & Technology, Govt. of India during the academic year 1990-91, and he was the visiting research faculty at the University of Minnesota (USA) in the domain of Robotics & Automation. During 1997, Dr. S. Mohan Kumar was awarded with Sir C.V. Raman Young Scientist Award in recognition of his outstanding contribution to Engineering Science by the Govt. of Karnataka.
Dr. S. Mohan Kumar completed his engineering education B.E. at the University of Mysore, Masters Degree from IIT, Kanpur, and Doctoral degree from IIT, Kharagpur. Dr. S. Mohan Kumar bears a pretty long teaching & research tenure of more than 38 years and has contributed to the development of Industrial Robotics Research Cell (IRRC) & Industrial Automation Interaction Cell (IAIC) under Central Assistance from AICTE, Govt. of India. Dr. S. Mohan Kumar was the key person in establishing the interdisciplinary M.Tech. Course on Industrial Automation & Robotics (IAR), at MCE Hassan which is first of its kind in India. Recently, Dr. S. Mohan Kumar has been nominated as the Expert Committee member for the AICTE-Stanford Project for enabling technical graduates employable for the Engineering Institutions of India.
Dr. S. MOHAN KUMAR, B.E-Mech (UoM), M.Tech.(IIT-K), Ph. D.(IIT-KGP)
Vice-Chancellor
Sri Jagadguru Murugharajendra University (SJMU)